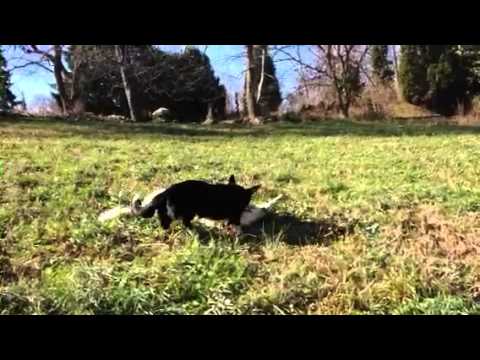 update
It's been quite a while since the last post. Here's what has transpired, in abbreviated format. Orbit got "fixed" a few weeks ago. We were hoping it would stop or curtail the leg humping but that hasn't happened. He has gotten much calmer over the last few weeks. His "zoomy" periods are getting less and less and he's much more content to sit...
Some recent Corgi things
Orbit turned 5 months old. Last week, we received his AKC certificate in the mail containing his official name "Orbit Plus Infinity Aelhearn". The last bit is Welsh, meaning "iron head" which is beyond fitting. Alice has seen a big change in him in the last week with how he is leash walking. I've noticed he's much more confident around the neighborhood,...
Orbit at four months
Orbit lost 4 of his teeth last week (two middle top/two middle bottom) and grew his adult teeth back already.  Then yesterday, while destroying an "indestructible" chew toy yesterday he lost two upper canine teeth. That means it's time to start thinking about getting him snipped and microchipped soon, I guess.  Walking is still a challenge — some days good, some days bad....
update
We went to my parent's place last weekend.  There were several family members there, including kids, and Orbit had a blast chasing after everyone.  It was a great chance for him to stretch his little legs and really run around all day. The visit's start was slightly embarrassing because we walked in the house and as soon as he reached the carpet he peed.  Since he had committed only 3...
the furry one, to date
As I'm sitting here on a warm Saturday afternoon watching the Phillies & writing this post, Orbit is laying down next to me.  Although he's tethered so he doesn't get himself into trouble, he's completely engrossed in chewing on a bully stick, looking like the happiest puppy ever. His ears went up this week; first one and then after a few awkward days, the other.  He...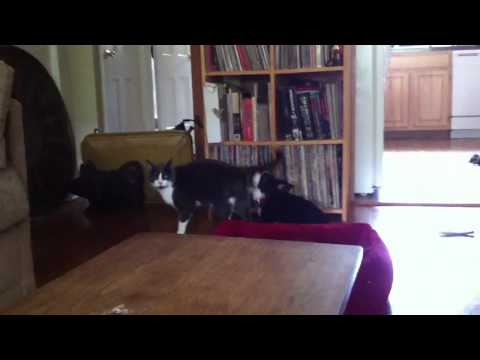 puppy speedbump
definition - when a puppy runs full tilt at his cat buddy and then, rather than stop and saying "hi", plows directly over the cat and keeps running.  repeat. (hopefully there will be a video to follow this at some point. It is hilarious)
Orbit has the puppy zoomies →
YouTube link
Orbit! →
Playing with his rope on his first full day with us. YouTube link